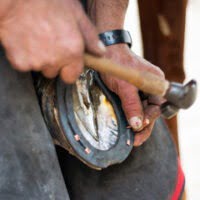 Farrier
Farrier
Overview
A farrier specializes in the hoof care of equine such as horses, ponies, mules, and donkeys. Typically, they clean, trim, and shoe horses' hooves.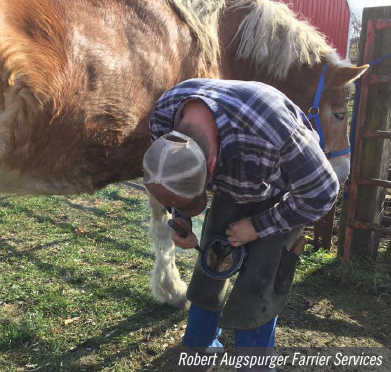 What responsibilities will I have?
Trim horse hooves using utensils such as rasps and nippers
Clean hooves and remove excess hoof walls and dead sole
Observe hooves for signs of disease or poor health as well as lameness problems
Intervene before a potential problem occurs with a horse's hooves by alerting veterinary personnel
Perform basic level of therapy toward horses' lower limbs
Fabricate or purchase horseshoes to fit horses, as requested by owner and tailored to the horse's duties (riding, racing, working, etc.)
Remove old shoes and replace with new ones, either via hot or cold shoeing
If shoes are fabricated, adapting and adjusting through blacksmithing may be required to ensure the right fit
Purchase and utilize tools and supplies necessary for farrier duties which typically include: anvil, anvil stand, nippers, forge stand, pullers, hammers, blades, tongs, rasps, gloves, knife sharpener, apron, hoof care accessories (nails, staples, pins), and pre-made horseshoes
Maintain a calm and caring demeanor to effectively work with and comfort horses
May perform grooming activities as requested or desired
If self-employed, handle billing and recordkeeping for clients
What education and training is required?
A high school diploma is required to become a farrier. Additional training may be sought by attending farrier training or a collegiate farrier program. Optional farrier certification is available through farrier associations. Knowledge or a degree in equine science or animal science may be helpful as well.
A career as a farrier often requires many different elements including veterinary knowledge, blacksmithing, and business. Some level of veterinary education would also be beneficial to spot disease or problems with hooves. Knowledge of welding or fabrication would be helpful as well. If running your own farrier practice, business knowledge will also come in handy. Most importantly, an apprenticeship or job shadow with an established farrier is recommended to learn this skilled trade.
Other Members