Equestrian Rider: Level 7
Riders at Level 7 should ride on consistent contact supported by the leg maintaining rhythm, suppleness contact and straightness. Riders are now aware of lateral and longitudinal suppleness and appropriate exercises to demonstrate suppleness. They will be executing simple lateral movements at walk. They can lengthen and shorten stride at trot. Riders at Level 7 should continue to demonstrate working trot and a true three beat working canter throughout the flat test. The Rider 7 should be able to identify the loss of true bend and true straightness by observing other horses. Riders at Level 7 will complete a flat test and jump fences at a height of 2'9″ (0.88m) in addition to a lunging component. Written and practical portions also tested at this level. The option continues at Rider Level 7 to take either the full riding component or only the flat component
Riders at Level 7 will ride on consistent contact supported by the leg while maintaining rhythm, suppleness contact and impulsion. Riders at Level 7 are now aware of lateral and longitudinal suppleness and appropriate suppling exercises. They will be executing simple lateral movements at walk. The riders will able to identify the loss of true bend and true straightness by observing other horses. They can lengthen and shorten stride at trot and will demonstrate working trot and a true three beat working canter throughout the test. Over fences the Rider Level 7 is effective and able to ride a course.
Rider 7 – Stable Management Requirements
Turnout for stable management should be neat and workmanlike. Paddock boots, work boots, or riding boots and neat sweat pants or slush pants over breeches are acceptable. Loose, baggy jeans or shirts are not acceptable. Hair should be tied back. Ball caps that cover the eyes are discouraged.
Candidates will be required to:
Apply 2 stable bandages one on the front leg and one on the hind. Two types of stable bandage are Both types should start just below the knee. One type wraps to support under the fetlock with an inverted V centered on the bottom of the front of the fetlock. A "stovepipe" wrap ending at the fetlock may also be used. Masking tape should be used over the Velcro and the tension of the tape should not be greater than the tension of the bandage. Candidates must be able to discuss the fit of the materials and the materials should be clean and in good repair. The bandage must end at the top of the leg and the Velcro should be on the outside of the leg.
Discuss symptoms, causes, location and possible treatments for various unsoundnesses.
Know different types of wounds and treatment.
Identify different bits and why one bit may be chosen over another
Describe the sequence that the farrier would follow in reshoeing a horse that is currently wearing shoes.
Be familiar with the use of special shoes or how shoes are modified to help a horse with certain soundness or locomotion problems
Lunging- Candidates will lunge a horse with side reins. Lunging from a cavesson, Barnham method, or lunging from a well-fitted halter are acceptable. Lunge horses should wear protective boots or bandages on all four legs. Horses should be lunged for a few minutes without the side reins attached to assess their mental state before attaching the side reins. Candidates will not be required to lunge a rider.
Rider 7 – Riding Requirements (Flat)
Warm-up: Evaluator may question the rider to determine the rider's comprehension of his/her warm-up and flat test performance.
Riders will be required to demonstrate:
Correct position at all paces with and without stirrups demonstrating solid position. Upper body is on the vertical at all paces except rising trot. Lower leg falls under the base of support and position should be maintained without difficulty. Position without stirrups should be solid and balanced with no gripping of knees or falling behind or ahead of the motion
Circles in canter should be Candidates should be aware of straightness and able to execute the movements with a steady pace.
A three loop serpentine cantering the first loop, trotting the second, and cantering the Transitions should be accurate and immediate with the focus being on the stability of the trot on the second loop.
Lengthening and shortening the stride at trot. The rider must show a definite transition from working trot to a lengthened/shortened stride
A half turn on the haunches where the horse should not step backward or forward. Stepping back is considered a more serious fault then stepping forward
Leg-yield.
Rider 7 – Riding Requirements (Jumping)
Riders will be required to:
Build and set the stride of the gymnastic and the course
Trot to a cross rail, 18'(5.5m) to a 2'6 (80cm) – 2'9(88cm) oxer, 21'(6.4m) to a 2'6 (80cm) – 2'9(88cm) Riders will be authoritative on the approach and able to demonstrate a stable, secure position through the line. Riders will approach straight, with the correct pace, and demonstrate good control in the recovery phase. The distances may be altered to suit ponies and horses with small strides.
Demonstrate a release through gymnastic as described by evaluator. The rider should be able to demonstrate the progression from the crest release toward the automatic or follow-though (out of hand) release.
Jump a course of 2'9(88cm). The course will be fairly basic but will be of a medal type and will have 1) a related distance, 2) 2 changes of rein 3) at least one individual fence 4) a transition. Fences will be of competition type with fillers.
Demonstrate consistent rhythm, impulsion, confidence, safety and control.
Critique their course with the evaluator. Riders may use simple change of leads but it is important that they can explain why they are using simple changes
Rider 7 – Gymnastic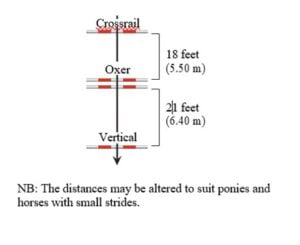 Rider 7 – Course
Suggested Courses for Rider 7 Tests
(Evaluators to walk and approve before testing).
Rider 7 – Flat Test
| | | | |
| --- | --- | --- | --- |
| Number | Markers | Movement | Work Space |
| 1 | A | Enter Working trot sitting | |
| 2 | X | Halt, Continue at working trot rising | |
| 3 | C | Track left | |
| 4 | E | 15m Circle Working trot sitting | |
| 5 | E | Rising trot | |
| 6 | FXM | Lengthen trot | |
| 7 | H | Working trot | |
| 8 | B | 15m circle right Working trot sitting | |
| 9 | K-H | Demonstrate shorten trot sitting | |
| 10 | C | Halt and cross stirrups proceed to M at walk | |
| 11 | M | 1/2 turn on haunches proceed to H | |
| 12 | H | 1/2 turn on haunches proceed to M | |
| 13 | M-B | Canter right lead | |
| 14 | A-C | Three loop serpentine Canter 1st, Trot 2nd, Canter 3rd | |
| 15 | MXK | Change rein simple change through walk at X | |
| 16 | F-B | Working trot sitting | |
| 17 | B | Turn left | |
| 18 | X | Turn right | |
| 19 | G | Halt. Leave arena on a long rein. | |
Course Features
Lectures

1

Quizzes

0

Duration

Lifetime access

Skill level

All levels

Language

English

Students

26

Certificate

Yes

Assessments

Yes