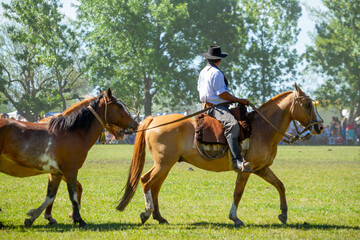 Partnering with horses, tweens and teens learn and practice powerful leadership, gain valuable life skills, and experience the magic and joys of connection and teamwork with horses. The program will empower, inspire, and support balance.
About Equine Facilitated Leadership
Kings Farm Equine Facilitated Leadership sessions partner tweens and teens with horses to develop their personal leadership, learn natural horsemanship training, practice mindfulness, and have fun as they learn to connect, communicate, and work with horses through unique and challenging groundwork exercises.
Benefits
Through participating in Equine Facilitated Leadership sessions, participants…
Develop coping skills that enable resilience in the face of challenge
Develop non-verbal awareness and communication skills
Cultivate internal and external environments of trust and safety
Deepen their capacity to self-regulate
Learn how to lead with intention and access their intuitive self
Learn to build trust and cooperation as the foundation of leadership excellence
Learn how to channel emotions and energy into purposeful action
Develop innovative and creative ways to solve new challenges
Learn mindfulness tools that enhance presence and listening capacities (& more!)
Schedule: Equine Facilitated Leadership programs for Tweens and Teens
Weekly Schedule
Leadership

10 Mins

Groundwork

20 Mins

Review/Quiz

10 Mins

Gymnastics on Horse

20 Mins

Review/Quiz

10 Mins

Lesson-1
Connection & Self-Regulation

Train Your Horse to Stand Still
Arm Exercises for Balance

Arm Circles

Lesson-2
Powerful Leadership
Train Your Horse to Lead Properly
One Hand Behind the Back

Arm Extensions

Hand on Your Head

Lesson-3
Building Relationships

Train Your Horse to Flex and Soften to Pressure
Body Twists

Leg Lifts

Toe Circles

Lesson-4
Communication & Teamwork

Train Your Horse to  walk with you
Around-The-World

Red Light, Green Light

Lesson-5
Play
Train Your Horse to Move Their Front-End
Horse Riding Exercises: Learn to tack and bridle your horse

Lesson-6
Wisdom of herd
Train Your Horse to Move Their Hind-End
Horse Riding Exercises: Mount, Position and Hold Rein

Lesson-7
Benefits of horse riding
Practice
Horse Riding Exercises: Learn to groom a horse

Straightening the Wrists

Lesson-8
Benefits of horse riding
Practice
Horse Riding Exercises: Learn Riding Basics-Move and Steer

Horse riding Exercises: Learn how to do Trot posting and Canter

Taping the Reins
Course Features
Lectures

25

Quizzes

0

Duration

20 weeks

Skill level

Beginner

Language

English

Students

75

Certificate

Yes

Assessments

Yes